NGC Recovers Stolen Coin
Posted on 7/19/2004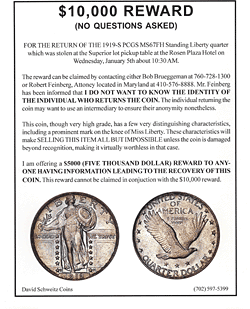 A $10,000 reward was offered at the time by dealer David Schweitz for the return of his coin stolen during lot pickup for Superior Auctions' sale in conjunction with the FUN show on January 5, 2004. At that time the coin was in a PCGS holder and graded MS 67 FH (full head). Nothing more was heard of this coin until it surfaced raw (unencapsulated) during the July 8-10 Baltimore show.
Submitted to NGC for grading and encapsulation, it seemed quite familiar to NGC Chairman Mark Salzberg, who was serving as Grading Finalizer for the NGC team. Salzberg, who has a phenomenal memory for the coins he's seen, believed it to be the piece reported as stolen in January. Confirmation of this was made by NGC with Superior and with David Schweitz, who was pleasantly surprised to discover that his coin had been recovered and permitted NGC to proceed with the grading and encapsulation on his behalf. The name of the person submitting the coin to NGC at the show has not been released, pending an investigation.
The recovered 1919-S Standing Liberty quarter is now in an NGC holder with the grade of MS 67 FH. A fully struck gem, it features an amazingly sharp strike throughout and light amber toning around its peripheries. It is the finest example of this scarce issue certified by NGC.
David Schweitz was delighted at the recovery of his coin: "I want to thank the entire staff at NGC and Mark Salzberg in particular for his sharp eye." To express his gratitude, Schweitz is donating $5000 to the American Numismatic Association on behalf of NGC.
NGC may be contacted by writing to P.O. Box 4776, Sarasota, FL 34230 or by calling toll-free at 800-NGC-COIN (642-2646). NGC's email address is Service@NGCcoin.com, and its website is www.NGCcoin.com.
Stay Informed
Want news like this delivered to your inbox once a month? Subscribe to the free NGC eNewsletter today!